Interlocking concrete pavers have become an important form of pavement in North America. Pavers offer the unique advantage of a very strong pavement surface combined with the advantages of a flexible pavement system. The proven durability of pavers has made them an excellent choice for commercial and industrial pavements. Additionally, the nearly unlimited options in color, pattern, shape and texture have made pavers a favorite choice for aesthetic reasons. Homeowners use pavers for patios, walkways, pool decks and driveways. Architects and engineers design commercial entries, plazas, roads, parking lots and streetscapes for commercial and municipal use.
Components of a paver system are shown below.
Components of an Interlocking Concrete Pavement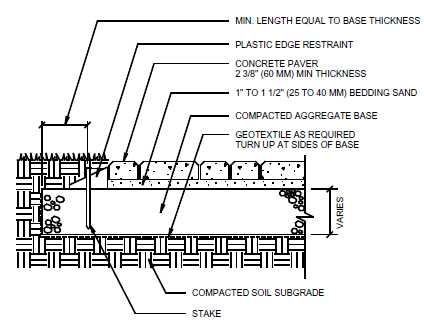 It is important to understand the proper construction of interlocking pavement systems. The pavement will perform relative to the proper design and construction that are applied. Additional training is available in interlocking concrete pavement construction from paver manufacturers, paver dealers and the Interlocking Concrete Pavement Institute (ICPI). Sand stabilization and surface protection are important components of an interlocking concrete pavement.
Pavers have been installed throughout North America. Every major market has some degree of paver installation. The largest markets surround large metropolitan cities. Some of the largest markets include: Florida, North East, Mid-West, Texas and California. It is estimated that less than 25% of pavers are sealed annually. Most sealing of paving stones is done as a do-it-yourself project by homeowners with often less than satisfactory results.
It is anticipated that significant growth in the interlocking pavement market will resume in North America when the construction market and general economy improve. Pavers have become a regular proven choice for patios and walkways. However, they are becoming very popular for larger pavements such as driveways and pool decks. This increasing acceptance for meeting larger pavement needs, with pavers, should drive growth. Additionally, there is an increased emphasis and acceptance by designers for using pavers in commercial applications. Also, there is an increased demand for "green pavements" to reduce runoff of pollutants into watersheds. The Permeable Paver market is growing exponentially.
Deterrents to growth may include the perception that pavers are more expensive and that they require more maintenance than traditional pavements. However, these are myths and are dispelled by professional testing and research. In fact, pavers are the best pavement choice for most applications because of their reduced life cycle cost.
Installation costs for pavers have been falling recently as contractors become more efficient. Competition among paver manufacturers has reduced pricing and increased availability.
The perception that pavers are high maintenance results in part because pavers have been traditionally sold by construction companies and there has typically not been any provision for maintenance. Owners struggle to determine and execute the proper maintenance plan themselves. The Seal 'n Lock system was designed specifically to deal with this issue.